Modern business leaders, including chief data officers, line of business owners, and other enterprise data stewards, are always asked to discover more value from existing data. Obviously, the most important insights often come from consuming data that is valuable in itself, presenting a target for exploitations internally and possible ex-filtration of bad performers, if not governed correctly. The overall objective of Data Governance Services is to set up correct rules and provide the required security to reduce violation risks.
Keeping the data safe and suitable for its use without breaking consumer and data owner trust assurance is often the main hurdle when approving digital transformation programs to move ahead. It's improbable that business leaders will get permission to unleash personal information or similar IP if they have no knowledge of how exposure can be a liability or produce the expected ROI.
Data Governance is Your Key to Speed up DX, CX, and Reduce OpEx
A data governance program for overall enterprise is your key to speeding up digital transformation programs, such as cloud migration, making the customer experience better with trust assurance, and reducing operating expenses when data use is optimized, aligned with your business policies.
In today's world, when more data is available from multiple sources, it is no surprise that companies seek an automated and scalable method to manage this data. Data governance is a regulation that includes the policies, roles, rules, responsibilities, and tools you put in place to make sure our data is correct, reliable, complete, available, and secure to enable trust in the results you try to achieve.
Here are three best practices in data governance to maximize the success of business transformation programs, decrease uncertainty and ensure safe and proper data use.
Improve the quality and consistency of sensitive personal data to provide a 360-degree view of your customer 
There are many procedures and strategies implemented to get this done. You need to know what a customer buys, how the payment is done, and in which mode. As a result, you can obtain identity information, such as name, shipping address, type of item, size ordered, and many more details about the purchaser. You can also compare and link records. After linking records, you can have a more comprehensive view of your customer, improve data quality and facilitate more appropriate and actionable use by closing gaps in dependability for better insights.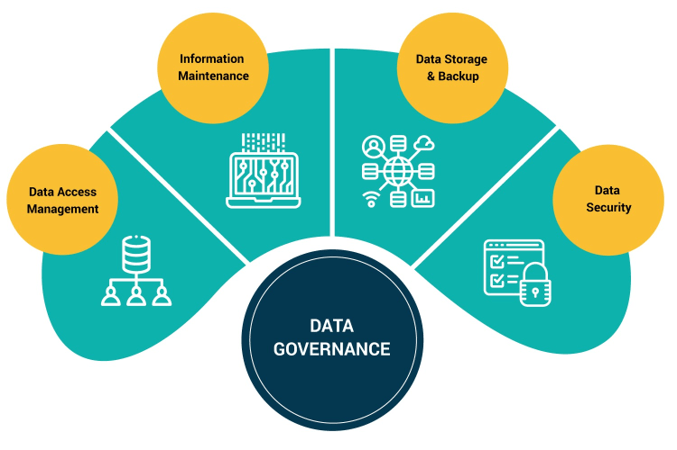 Ensure a reliable set of definitions, terminology and metadata
Data governance ensures the utilization of consistent, standard naming conventions and clean, brief definitions of data elements. How can you do this? It is done by combining together the right stakeholders, such as data stewards, business leaders, data architects, and others who need to interact in a common language and develop transparency within the workflow for codifying policies to operationalize and automate data governance controls.
Protect against illegal access to data and govern right uses
We all need to address and fulfill data privacy regulations around personal data use that are progressively more mandated by law. Keeping regulatory compliance to one side, industry statistics reveal that improving trust assurance that strengthens loyalty and confidence in insightful data use is a priority for businesses.
Again, data governance plays a vital role in assuring all companies can identify their confined data, using data discovery and classification procedures. It also helps to set processes, policies, and enforceable operational controls to make sure the security and privacy of that data are approved for access and suitable exposure.
While these are the basics, there is plenty of nuance and room for arguments as to how this can be done most proficiently with limited time and resources. Sometimes, this requires depending upon automation through AI and machine learning to speed up insights, get more with fewer resources and improve data governance plans that optimize results based on business goals for data usage.
How can Informatica help?
Leading international organizations are leveraging integrated and intelligent Data Governance and Privacy solution from the Informatica range to proactively add value to their results. They provide the right data to the right people at the right time, facilitating the entire organization to be practical, in order to recognize and take action on new opportunities and plan for the best outcomes, instead of responding to unexpected surprises.
Governing data is a responsibility that resides with every individual in an organization to lessen risks by handling data sensibly, resulting in a clear necessity for common solutions and governance models to guard and share data on different levels through every company.
As part of any company's success, everyday interactions with business-critical data are very important. Every person within the organization is responsible for data protection while unlocking new opportunities in parallel. If you have an improved solution, knowledge of a more competent way to manage the data, or discover a barrier to resolve, you should feel empowered to proceed with that information. Then, you can really make a difference!
Start to Accelerating Data Governance and Privacy Best Practices to Optimize Results
A common question for the people who want to get started with data governance is, "where to initiate for the maximum impact?"
Whether beginning a new program within an organization that is short of maturity or selecting an inherited collection of elements and parts from a forerunner, it depends on the responsibilities and business model of each organization for understanding data and setting up the most appropriate data controls. Even with changeable schemas across industries and organizations, there is a reliable set of best practices that can help to avoid missteps and make the most out of budgets and resources.
Having a rich legacy of data management solutions for more than 25 years, Informatica has developed a wealth of experience, implemented globally across top organizations. Whether securely revealing data in a marketplace, transferring workloads to the cloud with fewer risks, supporting customer loyalty programs with stewardship best practices for trust guarantee or beyond, Data Governance Services can really help you get success with reduced risks. ExistBI has Data Governance consultants in the United States, United Kingdom, and Europe who can help you navigate this journey successfully, contact us today.
https://www.existbi.com/wp-content/uploads/2021/12/image003.png
450
677
ExistBI Team
https://www.existbi.com/wp-content/uploads/2023/06/existbi.png
ExistBI Team
2021-12-11 08:54:35
2023-09-16 10:04:01
Best Practices for Data Governance Services to Lower Risk and Drive Value