Informatics is changing the face of medical services. With the advancement of the latest technology, healthcare professionals and organizations can gather, analyze and leverage information more effectively, affecting the way care is provided, assets are managed and teams work every day. You would be unable to discover an aspect of medicine that presently can't seem to be touched by the mass analysis and collection of data that has been introduced by the Information Age.
One explicit area that health informatics is essentially affecting is the practice of nursing. Despite the fact that the mission of nursing stays unaltered, the day-by-day work of these experts is by and large affected by informatics, with specific attention to the communication and accuracy of patient information and care.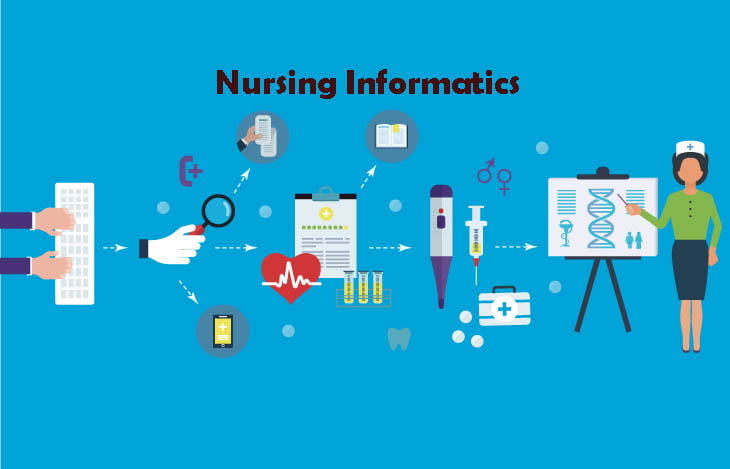 What is Nursing Informatics?
Nursing Informatics is a specific area of nursing and a profession that has lots of potentials. The purpose of this blog post is to be an introduction to nursing informatics and the importance of nursing informatics.
The nursing profession is quickly changing to keep up with new challenges and advancements in healthcare services. As one-to-one caregivers, nurses are the frontliners of patient care and always feel the impact of changes in best practices more quickly than other medical services experts.
One of the primary ways that informatics has changed nursing practice is through documentation. The time of paper charts is gone where all the records updated with handwritten notes. Nowadays, nurses have to keep notes in digital health records and different systems that keep a patient's clinical history easily accessible and up-to-date.
Read More: How Big Data Can Help in Fighting Against Coronavirus (COVID-19)
Health informatics is also a significant piece of care coordination in nursing. The capacity to track staffing, communication, and workflow can assist nurses to identify areas where current workflow can be improved. This can also help to make sure that staffing levels stay sufficient, which is important for giving patients the best possible healthcare. The more data that is gathered and analyzed, the more accurate the results will be and giving the most ideal data to deciding how best care for patients can be provided in the future. If nurse to patient ratio drops low, patients are more likely to suffer the worst outcomes.
Nursing Career Option in Informatics
Nurses at every level presently work with informatics through patient records and other healthcare technologies. Some nurses decide to focus their careers on the intersection of informatics and clinical practice. There are various career choices accessible in this path, including the following:
Clinical informatics specialist
Clinical informatics organizer
Nursing informatics specialist
Clinical informatics administrator
Clinical Analyst
Nursing informatics Analyst
These roles can be found at each level and feature of healthcare organizations, including management and leadership, support, risk analysis, consultation, research, education, and evaluation. As informatics turns into a more noticeable part of the nursing field, job opportunities will probably keep on creating.
While healthcare informatics jobs are available to experts from different backgrounds, nurses are especially appropriate for these roles because of their deep insight into clinical workflow, past healthcare training, and experience in information systems and the latest healthcare technology.
With the proper informatics training combined with your existing medical knowledge and clinical, you could have an effect on inpatient care in a medical organization through a career in nursing informatics.
What a Nursing Informatics Expert Does
Strongly focused on data, information, and communication, the main responsibility of nurse informatics is: how to utilize numbers to boost performance, both for patients and for an organization all in all. The purpose of the job is to "boost proficiency, cut expenses, and boost patient care quality". Nursing experts are positioned at the intersection of computer science, nursing science, and data science, where they can "better manage and communicate data, information, and knowledge in the practice of nursing.
Nursing informatics experts encourage data integration, data, and knowledge so that they offer better service to patients, nurses, and other healthcare professionals. One thing on which they spend lots of their energy is documentation, because "highest quality of patients care is completely dependent on strong communication among the wide range of healthcare providers. A nurse informatics analyst increases the speed of the charting process, which means the healthcare professionals have better access to the patient's chart, notes and take proper Medicare.
Read More: Benefits of iPaaS, Explanation, and iPaaS Use Cases
Where Nurse Informatics Professionals Work
Nurse informatics professionals work in a wide range of fields like Consulting firms, big corporations, hospitals, and Universities. Job titles for this field that match this professional competency include:
Clinical analyst
Director – clinical informatics
Clinical informatics organizer
Informatics nurse expert
Why Nursing Informatics is Important?
Nursing is progressively turning out to be as "high tech" as it is a "high touch" job.
Nowadays, Nurses have more technology in their hands than any other medical professionals ever before, and as one may anticipate, it's impressively improving patient care.
So how are nurses utilizing informatics as an approach to improve the healthcare providing to patients? Let's discuss the several ways that nursing informatics is being used and why is it so important…
1. Improved Documentation
One of the most important parts of the nursing profession is Documentation and it has been recognized as a more vital part of patient care. The standard of nursing practice, practice and theory of nursing, ethical and legal concerns, and other factors that are taught in the advanced nursing programs make an impact on patient care.
Nowadays, modern nursing care is organized patient history and special care requirements by using data generated and organized in electronic patient records. By documenting a patient's physical condition and added that information electronically, nurses can manage patient care more effectively. Also, nurses can improve the quality of patient care.
Lots of documentation is automatically produced by connected devices. Those devices collect patient-oriented specific data in real-time and send it to patient records. Taking a look at the documentation of a patient's medical situation from time to time, nurses can make better decisions about how to give the best medical care, when adjustments, or changes need to be made.
2. Makes Sure There are No Medical Errors
The safety of a Patient is the main concern of any health care professional, and nurses are the frontliners of patient care to ensure that their patients remain safe and reducing medication errors, falls, misdiagnoses, and other difficulties. Health informatics gives valuable data that can stop these medical errors; for instance, an electronic document can store data about a serious medication communication or allergy that might not otherwise be instantly visible. Loaded with data, nurses can make smart choices that keep their patients secure and safe.
Patient complaints and nurse training errors are some of the main reasons for disciplinary actions, nursing board license investigations, and malpractice lawsuits. Accusations have been growing in recent years because of the ease of registering complaints online. Health informatics makes sure regulating many patient care decisions which makes it simpler for healthcare industries to restrict their responsibility and ensure compliance with the Nursing Practice Act and other medical care patterns.
3. Decrease the Medical Costs
Medical service's errors expenses cost nearly 40 billion every year, and many of these errors can be solved with health informatics. Not only with the information with health informatics nurses can avoid errors but also they can automate different tasks such as create doctor note templates, improving patient care, increase nurse's productivity, and stopping some of the expenses related to healthcare.
4. Improved Coordination of Care
Nurses are often called upon to help organize the medical care of their patients. This means sending information from therapists, physicians, pharmacies, billing, and more services during medical care and at discharge. Without all of the important data, patient care can suffer. Health informatics increases the coordination of this data, improving both satisfaction and outcomes with care, and allowing nurses to provide their patients all of the information they require.
https://www.existbi.com/wp-content/uploads/2021/05/nursing-informatics-certificate.jpg
416
950
ExistBI Team
https://www.existbi.com/wp-content/uploads/2023/06/existbi.png
ExistBI Team
2021-04-21 20:01:35
2023-09-16 12:21:28
What is Nursing Informatics and why is Nursing Informatics Important?